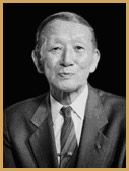 Dr Shinichi Suzuki was the founder of the worldwide music education movement known as the Suzuki Method. Born in Nagoya, Japan in 1898, he was the son of Japan's first and largest violin manufacturer. Although he worked in the factory as a child, he had never learnt music formally.
Inspired by a recording by Mischa Elman of Ave Maria, Suzuki began to teach himself to play the violin. Over the next few years, he dedicated himself to the study of the instrument and then, at the age of 22, travelled to Berlin to study with the renowned violinist, Karl Klinger. It was here in Germany that Suzuki became a friend of Albert Einstein and through him, associated with many of the world's leading artists and thinkers. Suzuki met and married Waltraud Prange, a concert soprano and they returned to Japan in 1928 where he began teaching and performing with the Suzuki Quartet.

Suzuki was asked by a colleague at the Imperial Conservatory to teach his young son and became stimulated to think about the ways in which children learn. Then with the outbreak of World War II, Suzuki was separated from his wife as she was classed as a foreigner. With food very scarce and conditions less than ideal, Suzuki became very ill, taking months to recover. From this experience grew a determination to positively influence the lives of children.
In Germany he had observed how easily the young children learnt to speak German, a language he was struggling to master. He also realised that all Japanese children easily learn to speak Japanese, a highly complex language. All children are able to learn their mother tongue effortlessly through listening, imitation and repetition. He concluded that children could also learn music this way, if taught with love and dedication.
Suzuki taught using the concept 'character first, ability second'. His goal was to embrace the whole child, nurturing a love of music and the development of a fine character rather than just the mastering of a musical instrument. Suzuki called his idea 'Talent Education' and soon established a school in Matsumoto.
Talent Education refers to the development of skill, knowledge and character. The word 'saino' (talent) in the Japanese language means both ability and talent. There is no distinction between the two meanings as there can be in English. 'Saino' can also be used to mean the development of ability and talent in a skills area such as music and in a personal development area such as one's character.
Suzuki took a great deal of time and care developing the repertoire, which presents technical and musical concepts in a logical sequence. Eventually other teachers heard of his work and came to Matsumoto to study. Teaching of the method then started to spread around Japan and materials were developed for cello, flute and piano.
In 1958, a film of young Suzuki children performing was shown to a group of string teachers in Ohio. The film provoked a great deal of excitement amongst the musical establishment and prompted many American teachers to learn about the method. Suzuki took a group of Japanese students to the USA to perform at a music educators conference in 1964 which continued to fuel the desire for knowledge about this amazing man and his work. Since that time, the ideas of Talent Education have spread throughout the world. Many teachers have been to Japan to study directly with Dr Suzuki.
Today there are over 8000 Suzuki teachers worldwide and more than 250 000 children learning by the Suzuki Method.
Dr Suzuki died aged 99 in January 1998, in Matsumoto, Japan. His legacy will continue to profoundly influence the lives of children and their families.

Suzuki Philosophy
Suzuki Talent Education or Suzuki Method combines a music teaching method with a philosophy, which embraces the total development of the child. Dr Suzuki's guiding principle was "Character first, ability second".
The essence of his philosophy may be found in the following quotes from his many writings:
"Musical ability is not an inborn talent but an ability which can be developed. Any child who is properly trained can develop musical ability just as all children develop the ability to speak their mother tongue. The potential of every child is unlimited".
"Teaching music is not my main purpose. I want to make good citizens, noble human beings. If a child hears fine music from the day of his birth, and learns to play it himself, he develops sensitivity, discipline and endurance. He gets beautiful heart."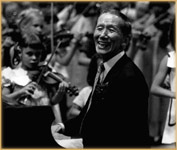 "Where love is deep, much will be accomplished."
"My dream is for the happiness of all children. I feel respect and friendly feelings for everyone. In particular, I cannot help but feel respect and warm feelings for young children. And my heart brims over with a desire to help make all the children born upon the earth fine human beings, happy people, people of superior ability. My whole life energies are devoted to this end."
"Man is the son of his environment."
"I have no doubt that people are born with hereditary physiological differences, but I believe that a person's abilities grow and develop depending on the stimulation from outside."
"I firmly believe that any child can become superior, and my confidence has never been betrayed."
"An unlimited amount of ability can develop when parent and child are having fun together."
"Music is a language that goes beyond speech and letters - a living art that is almost mystical. This is where its emotional impact comes in. Bach, Mozart, Beethoven - without exception they live clearly and palpably in their music, and speak forcefully to us, purifying us, refining us, and awakening in us the highest joy and emotion."
How does Suzuki work?
Dr Suzuki called his teaching method the Mother-Tongue Approach, inspired by the fact that children so effortlessly learn to speak their native tongue. Prompted and encouraged by the parents' love and the family environment, the child responds and develops this most difficult of skills, that of intelligible speech.
When a child learns to speak, the following factors are at work:
Listening
Motivation
Repetition
Step-by-step mastery
Memory
Vocabulary
Parental Involvement
Love
In the Suzuki approach each of these principles is used in the learning of an instrument (piano, violin, viola, cello, double bass, flute, guitar, voice, harp and recorder). The mother-tongue approach has successfully been applied to other fields such as art, poetry and mathematics.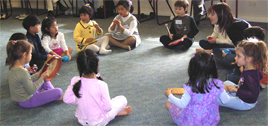 Dr Suzuki closely follows the parallel with language learning and recommends that music should become an important part of the baby's environment from birth (or even before). When the infant's environment includes fine music as well as the sounds of the mother-tongue, it is understandable that the child will develop the ability to speak and to play a musical instrument (with technical guidance) before being required to read in either language. Formal lessons frequently begin as early as 3 years of age.
Listening
Children learn to speak by listening and imitating the spoken language they hear around them. In Suzuki teaching, much emphasis is placed on daily listening to recordings of the Suzuki repertoire, as well as music in general. The more frequently the students listen to the recordings, the more easily they learn to play.
Constant listening to music performed with beautiful tone provides children with a role model for their playing. In the lessons, the production of fine tone and sensitive playing is stressed from the beginning.
Parental Involvement
Parents play a crucial role in Suzuki. Learning takes place in an environment of co-operation between teacher, parent and child. The parent's role includes attending each lesson with the student, taking notes and then guiding them through their practice at home - they become the 'home teacher'. Parents also need to play the recordings daily, help to create an environment of affection, support, encouragement and understanding, and also attend workshops, concerts, group lessons, graduations and summer schools with their child.
Positive Environment
A positive, nurturing environment is created in the lesson and is also essential at home. Parents need to ensure that all members of the family understand this. Children learn enthusiastically when they are supported with sincere praise and encouragement. They learn to recognise one another's achievements, creating an environment of co-operation.
Repertoire
One of Suzuki's major contributions to music education is the unique order of the repertoire. Each carefully chosen piece becomes a building block for future learning. Technique, musicianship and style are developed through the study and repetition of these pieces.
Each instrument has its own repertoire. This provides familiarity and hence excellent motivation to progress. Through the common repertoire within each instrument, children have a bond with Suzuki students world-wide.
However, the spirit of Suzuki teaching may encompass all styles and periods of music. Teachers often give supplementary material which may help to widen the students' musical experience.
Reading
Reading music follows the acquisition of good aural, technical and musical skills, just as reading language begins after a child can speak fluently. The stage at which the child begins to learn reading music varies according to age and general development. However, it will always be after basic playing skills have been mastered to maintain the focus on beautiful tone, accurate intonation and musical phrasing.
Integrating the music reading program with the Suzuki repertoire is vital to the child's musical development.
Individual and Group Activities
As well as their individual lessons, students participate in group lessons. The common repertoire enables them to play together, giving them valuable ensemble experience and positive reinforcement of concepts learnt in their individual lessons. Students also take part in performances and workshops and observe other children's lessons. All of these things are wonderful motivational tools - children love to do what they have seen other children doing.
Some of the group activities offered by Suzuki Music, include the annual Festival, individual instrument workshops, the Grand Annual Concert and several concerts. Students have several opportunities to perfoorm and learn from a range of teachers each year. Have a look at the Calendar of Events for a full listing of events for the year. More detailed information, including registration forms are available on a term by term basis from Student Events.
Suzuki Voice

In Suzuki Voice the singing voice is treated as an instrument and is encouraged to develop naturally through the Suzuki repertoire. Relaxation and vocalisation are important features of each lesson. The teaching method is similar to other instruments although formal lessons can be started at a much younger age. Prenatal, babies and toddler classes are available and these are usually held for groups of three to five children of a similar age. When a child is about three (this age is only approximate and varies from child to child) he or she can begin individual lessons with the parent and teacher in addition to group lessons. This program is designed to continue teaching classical singing through to advanced repertoire and vocal maturity.
Early Childhood Education (ECE)
The Suzuki ECE group music class is specifically designed to prepare babies and toddlers (age 0-3) for future Suzuki lessons. Children have the opportunity to play various tuned and untuned percussion instruments. Nursery rhymes, action songs, finger play, story-telling and other musical activities are combined to assist the development of various skills - social-emotional, size, pitch, rhythm, number, fine and gross motor co-ordination, observation, listening and sequencing, vocabulary, memory and pre-literacy skills. Children are usually quite ready to begin learning a musical instrument by the time they 'graduate' from the ECE program at about three years of age.
Frequently Asked Questions
Is Suzuki just for preparing students for a career in music?
We aim, through the development of excellent musical skills, to develop character and sensitivity which will stand a person in good stead no matter what their ultimate path in life.
Do Suzuki students learn to read music?
Reading is taught, but only after basic playing skills, good posture and good tone have been mastered. This does mean that for some years the child's playing ability is ahead of reading skills; eventually the reading ability develops to the same level. Exactly the same process is found in the language ability of primary school children, whose fluency in spoken language is normally considerably in advance of their reading and writing skills.
Is it musical to play in large groups?
While Suzuki students are often observed playing from memory in large groups in unison (possible because of the common repertoire), this does not indicate unmusical playing. After all, in orchestras, large groups of string players play in unison without their individual musicianship being called into question. In fact, Suzuki students, when heard singly, all have their own individuality of tone, their own understanding of the music, their own personal expression. Frequently, a remarkable maturity of musical expression is observed in quite young children.
Is it OK to start learning an instrument at such a young age?
Those who deal with pre-school children will know that 3 year-olds cannot be made to do something that they do not want to do. Suzuki teaching is ideally adapted to the needs of the young child, and is particularly concerned with motivation, understanding of child development and psychology, and with making learning fun, while at the same time aiming for excellence.
Tags: Music lessons for kids music learning method for kids teaching music to toddlers Suzuki method