Hello, my name is Vicky Plaka and I was born in Athens in a family of four children. When I was 4 years old I started music lessons with my mother Eleni Plaka, Soprano Soloist qualified with honors in monody and operatic singing, and then I continued my piano studies at the Greek Conservatory of Athens. Together with my brother and sisters I was given singing lessons by my mother, who supported my musical talent and was my primary instigator. It is, hence, not surprising that the first song I composed as a youth was entitled "For my mother."
While growing up my large family eventually stopped supporting me financially and I had to take care of myself in order to continue with my studies and invest further in my future career. As soon as high-school was over I began to give piano lessons and started working at the same time also in other positions, such as in administrative support. I continued my studies in the Theory of Music at the National Conservatory of Athens, from which I got a distinction and graduated with honors.
As a songwriter I am driven by a sincere tendency to express directly my deepest thoughts and feelings, while my artistic inspirations are taken straight out of experiences of everyday life. My melodies, which remind me of past eras, blend in a nostalgic way with a modern way of thinking. This creative spontaneity and immediacy that the listener may decipher in my songs could be described as almost juvenile and stems from my love for children.
This love and affection I have for children opened up new creative ways for me in the field of musical education.
At present I am a music teacher, I teach music and piano to toddlers and children. As my teaching method I prefer to use ways to trigger the children's imagination through creative musical play.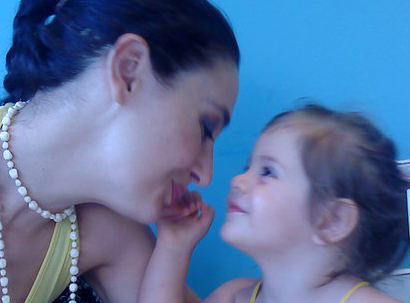 When I became a mother myself I realized that the maternity process has liberated and completed me as a person and as an artist. Being a mother has always been a source of inspiration and has motivated me to create this page. I wanted to help other parents become inspired as well and motivate them to give musical education to their children, as children are, by definition, a source of life and creativity themselves.